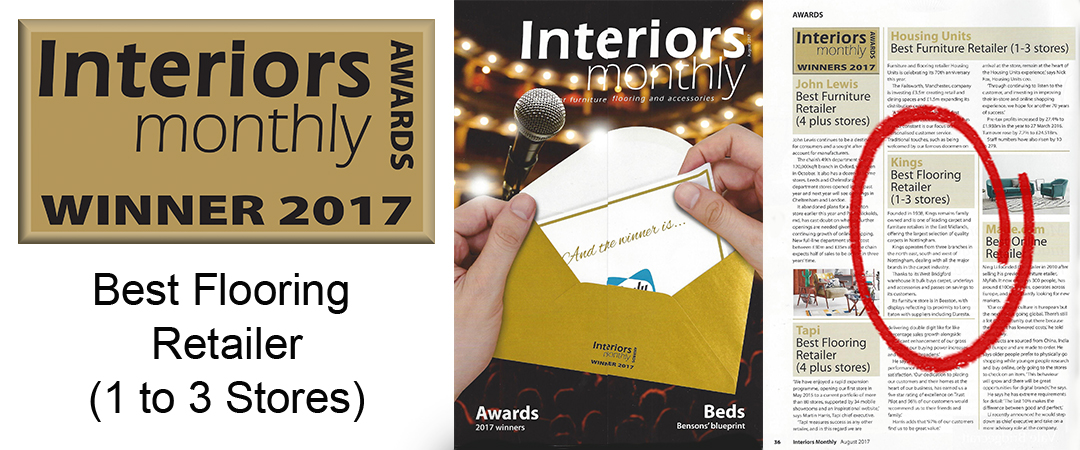 Kings is a long-running, independently owned, family company. Trading since 1908, Kings has been long established as Nottingham's leading carpet and furniture retailer. Kings operates from three individual branches in the North-East, South, and West of Nottingham, dealing with all the major brands in the carpet industry, including Axminster, Brintons and Ulsters, to name just a few.
We offer the largest selection of quality carpets in Nottingham. With our main warehouse located in West Bridgford, we are able to buy large quantities of carpeting, underlays and accessories, to make our prices unbeatable.
With our unbeatable price policy and easy free parking at all three stores, we are the ultimate destination retailer.
If you would like more information on flooring, carpets, rugs or sofas and furniture please call us on 0115 9455584 for West Bridgford, 0115 9258347 for Beeston or 0115 9670119 for our Arnold Store. We are open 9:30am – 5:30pm, Monday to Saturday. Or, see our helpful carpet buying guide.
We endeavor to offer the best prices on all carpets and flooring in the Nottinghamshire area. You can also email your inquiry or book a free estimate to info@kingsinteriors.com or fill our online inquiry form here.